Happy July! Wow this year is really flying by. Last month was full of bookish events and it looks like July will be more of the same. Both Alethea and I will be heading to Comic Con next weekend where we are going to get our geek on. If you see us, please say hi. Hopefully we'll remember to bring some bookmarks and buttons for anyone who wants one. And if you're heading to any of the events below, let us know and we'll keep an eye out for you. :)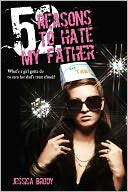 Jessica Brody at Barnes & Noble
signing
52 Reasons to Hate My Father
Saturday July 07, 2012
3rd Street Promenade
1201 3rd Street
Santa Monica, CA 90401
310-260-9110 (there is no time listed online, so best to call. also, b&n often does a wristband type thing so you should confirm what the procedure will be for this event.)
event page
Dark Days Tour at Barnes & Noble
with Aprilynn Pike, Veronica Roth, S.J. Kincaid, Dan Wells
Tuesday July 10, 2012
Huntington Beach (why does B&N not have times on their site?)
Bella Terra
7881 Edinger Ave. #110
Huntington Beach, CA 92647
714-897-8781
event page
Wednesday July 18, 2012 7:00 pm
132 N. Euclid Ave. (All Saints Church in Pasadena)
event page
Special Peter Brown Story Time!
Friday July 20, 2012
11:00 am
Mrs. Nelson's Toy & Book Shop1030 Bonita Avenue
La Verne, CA 91750
One of our favorite author/illustrators around, Peter Brown (You Will Be My Friend, Chowder), will be at Mrs. Nelson's to give a special story time! He'll read, answer questions, and sign books! Don't miss out on this opportunity to meet a charming and talented artist!
event page
RWA Autographing Session
Wednesday, July 25, 2012, from 5–8 p.m.
PT in the Ballroom (third floor) at the Anaheim convention center
event page
The "Readers for Life" Literacy Autographing has become one of the most popular events at RWA's Annual Conference. Hundreds of romance authors participate in this autographing event, and each year we raise thousands of dollars, which are donated to ProLiteracy Worldwide and local literacy organizations. Since 1990, RWA has raised more than $716,000 to fight illiteracy.
This event is open to the public; there is no admittance fee. Please note: No outside books will be allowed in (from attendees, not signing authors). Proceeds from book sales go to
ProLiteracy Worldwide
, Read Orange County, and Literacy Volunteers—Huntington Valley.
*OMG this sounds awesome. Seriously you have to look at the list of authors who are going to be there. :)
"Glee" Star Chris Colfer Tour Stop!
Friday July 27, 2012 Start: 7:00 pm
Mrs. Nelson's Toy & Book Shop
1030 Bonita Avenue
La Verne, CA 91750
event page
Chris Colfer, star of the critically-acclaimed comedy Glee (which has earned him a Golden Globe, 2 Emmy Nominations, a SAG Nomination, and inclusion in the 2011 TIME 100 - talented guy!) has written a fantastic middle grade novel, The Land of Stories! Mrs. Nelson's will be sponsoring this leg of his tour, so come meet a wonderful author and get your books signed - this is a once-in-a-lifetime opportunity, so don't miss out! Ticketing information:You may call the store or come in to pre-order up to 3 books. If you come to the store, you will be given a ticket and your receipt. If you order over the phone, we will keep your ticket and receipt in a file. When ordering online, select "pick up at store" for your delivery option. Do NOT select "pay at store" for payment. You MUST pay online or your ticket will not be reserved. You may then collect your book the day of the event by showing your I.D. On the day of the event, you will be given a wristband which will allow you in the store to see Chris! You may also come in to purchase the book after it is released on July 17. You will still need to collect a wristband the day of the event by showing your receipt. Books must be purchased at Mrs. Nelson's Toy and Book Shop.



Holly Black at Mysterious Galaxy SD
Wednesday July 25, 2012 7:00pm
Mysterious Galaxy SD
7051 Clairemont Mesa Blvd., Suite #302



Preview for Aug:
Lisa Desrochers, Kendare Blake, Maria Acosta at
Mrs. Nelson's
- Aug 16, 2012
---
Read more of Thuy's adult book reviews over at Nite Lite